{This post may contain affiliate links for products. This means if you click on a link and make a purchase, we will be compensated. Specifically, Fix Your Eyes On Him LLC is a participant in the Amazon Services LLC Associates Program, an affiliate advertising program designed to provide a means for sites to earn advertising fees by advertising and linking to amazon.com. This helps keep this blog operational and we only ever promote products we use or would use. You can find all of our disclosures and policies, including our full disclosure of material connection, statement of faith, copyright policy, privacy policy {including our use of cookies on this site}, terms of use, and health disclaimer {we are NOT medical doctors and are not offering medical advice!} HERE. Thank you!}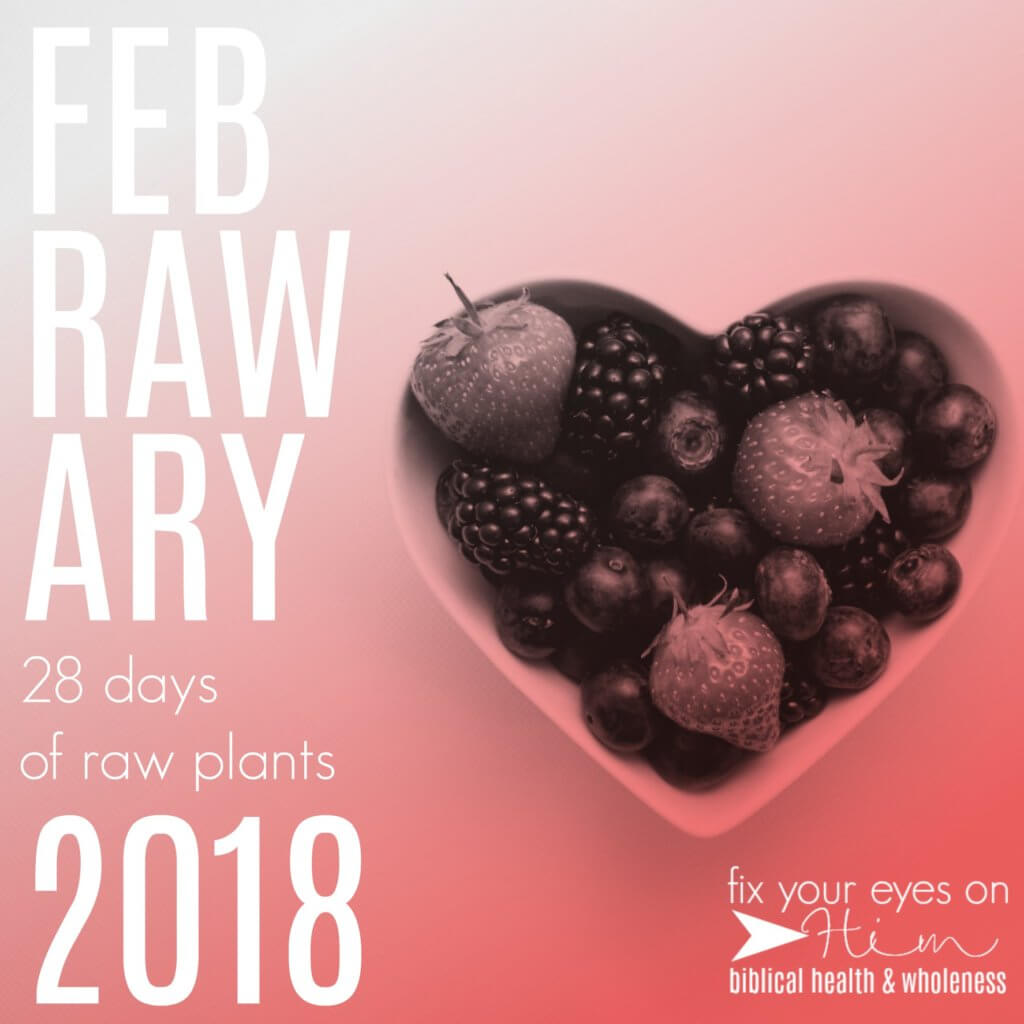 I wasn't going to say anything here.
I was going to just quietly challenge myself this February by going completely raw.
But then I opened my big mouth on Facebook about it.
And lots of you wanted to join in! Many others were just curious and asked exactly what I'd be doing.
Ummmmm… crickets. I didn't know! I didn't have a plan. Totally thought I'd just wing it.
Ahh, the joys of accountability on Facebook.
So here we are. I thought I'd just introduce a little bit about why and how I'm doing this to myself… lol!
To start us off legally, I must remind you, I am NOT a doctor or licensed nutritionist. I cannot tell you what to eat. I do not recommend making any dramatic changes to your diet without first discussing it with your doctor. What I'm writing about here, is a choice I'm making for myself. If you choose to follow along, you do so at your own risk. Please read our full medical disclaimer HERE.
I also need to be clear that I am NOT feeding my growing children this way. They need more calories than raw food has to offer. So they will continue on with their own whole-food-plant-based lifestyle which includes a vast array of nutrient and calorie-dense whole foods; both raw and cooked. Hubby, however, is totally on board with me and can't wait to start!
I want to start by answering some questions I've already gotten and then I'll get into some recipes of what we intend to eat.
WHY would you ever want to go fully raw? When we began our plant-based journey several years ago, we did so at about an 85/15 raw to cooked ratio. Slowly over the years, this has decreased to about 50/50. That isn't terrible, but I definitely feel my body craving more fresh food.
The nutrients and enzymes found in raw plants are unmatched in density anywhere else. I personally believe they are the foundation for health and the common theme among those who find healing from life-threatening illnesses. I've seen so many people use mostly raw fruits and veggies to cure so many horrible illnesses, including my own doctor! Why WOULDN'T you want that going in your temple? (1 Corinthians 6:19) We believe God created our bodies to consume plants, and, for us, this is a way to clean out that temple and start the year off with a flood of raw nutrition.
Don't you like cooked food? We LOVE cooked food. Potatoes, rice, pasta, oatmeal… you name it! We do NOT believe it is bad for you in moderation. But to be honest, we feel like our bodies need a break. Especially following the holidays where we may have indulged in a few too many sweet treats and heavy meals. I could never commit to eating a 100% raw diet for the rest of my life, but knowing it's only 28 days feels totally doable (I hope!). It's more like a reset than a giant monster of a commitment. And our cooked food will be there waiting for us come March.
How big of a shift is it going to be from your current lifestyle? Honestly, I don't think it will affect much outside of dinner. My husband and I already eat a totally raw smoothie for breakfast every day, we try to have a big salad for lunch daily, and our snacks are mostly fruit, veg, and nuts. Dinner is where we always have cooked food, so this will be a shift for us. But most of our dinners currently do have raw components, so it's really just going to be about making some changes here and there.
This sounds time-consuming. Is it? No way! Think about it: we don't have to cook anything (other than for the kids)! So aside from washing, chopping (just got a new food-processor and spiralizer to help with that!), and blending up some sauces, that will pretty much be it! I'm hopeful for 10-minute meals!
. .
.
What WILL you eat? Like I said, our breakfasts will remain raw smoothies, our lunches will still be raw salads, and our snacks will be fruit, veg, nuts, and seeds. But our dinners will now look pretty different. I'm not sure I'll commit to trying 28 different recipes for the whole month, but I do plan on learning many new ones and rotating them throughout the month. I've started a great board on Pinterest with some ideas, but here are my top choices to try:
A few notes:
I do intend on juicing a LOT more than normal. My plan is:

A glass of apple cider vinegar with lemon upon rising (I try to do this daily now)
A glass of barley grass juice before breakfast
A glass of carrot juice before breakfast
1-3 glasses of fresh garden juice throughout the day (or any other juice I decide to make)

I am going to dehydrate some fruit and veg at a very low temp to add some different textures and variety to our food.
I may include small amounts of sauces that are not made with 100% raw foods. I.e.: I may use my favorite applesauce-based salad dressing and may not have time to always make raw applesauce for the base.
So, that's the plan for now! Join me over on Facebook in our plant-based group to see pictures of what I'm actually eating, show us your own pictures if you decided to join in the fun, and encourage one another in everything we do! See you over there!
>>Want to spread the raw-love? Pin this image to Pinterest!<<<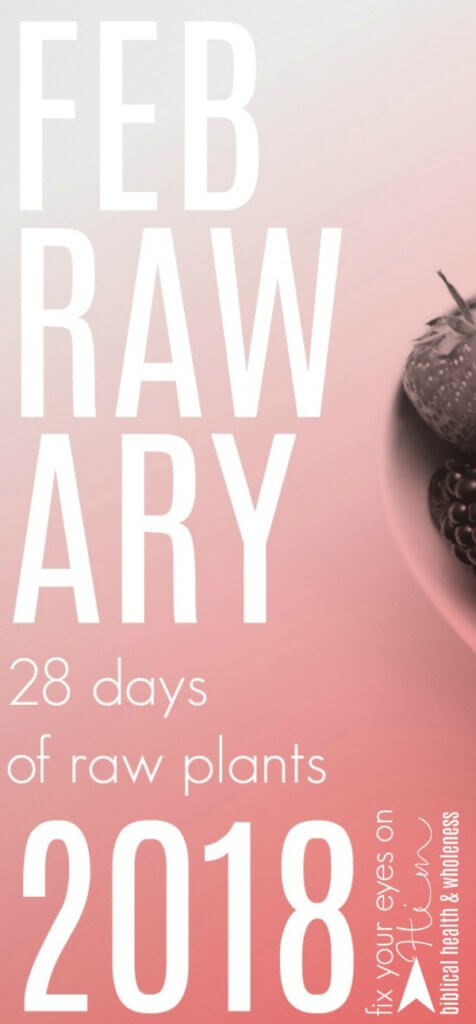 .
.