{This post may contain affiliate links for products. This means if you click on a link and make a purchase, we will be compensated. Specifically, Fix Your Eyes On Him LLC is a participant in the Amazon Services LLC Associates Program, an affiliate advertising program designed to provide a means for sites to earn advertising fees by advertising and linking to amazon.com. This helps keep this blog operational and we only ever promote products we use or would use. You can find all of our disclosures and policies, including our full disclosure of material connection, statement of faith, copyright policy, privacy policy {including our use of cookies on this site}, terms of use, and health disclaimer {we are NOT medical doctors and are not offering medical advice!} HERE. Thank you!}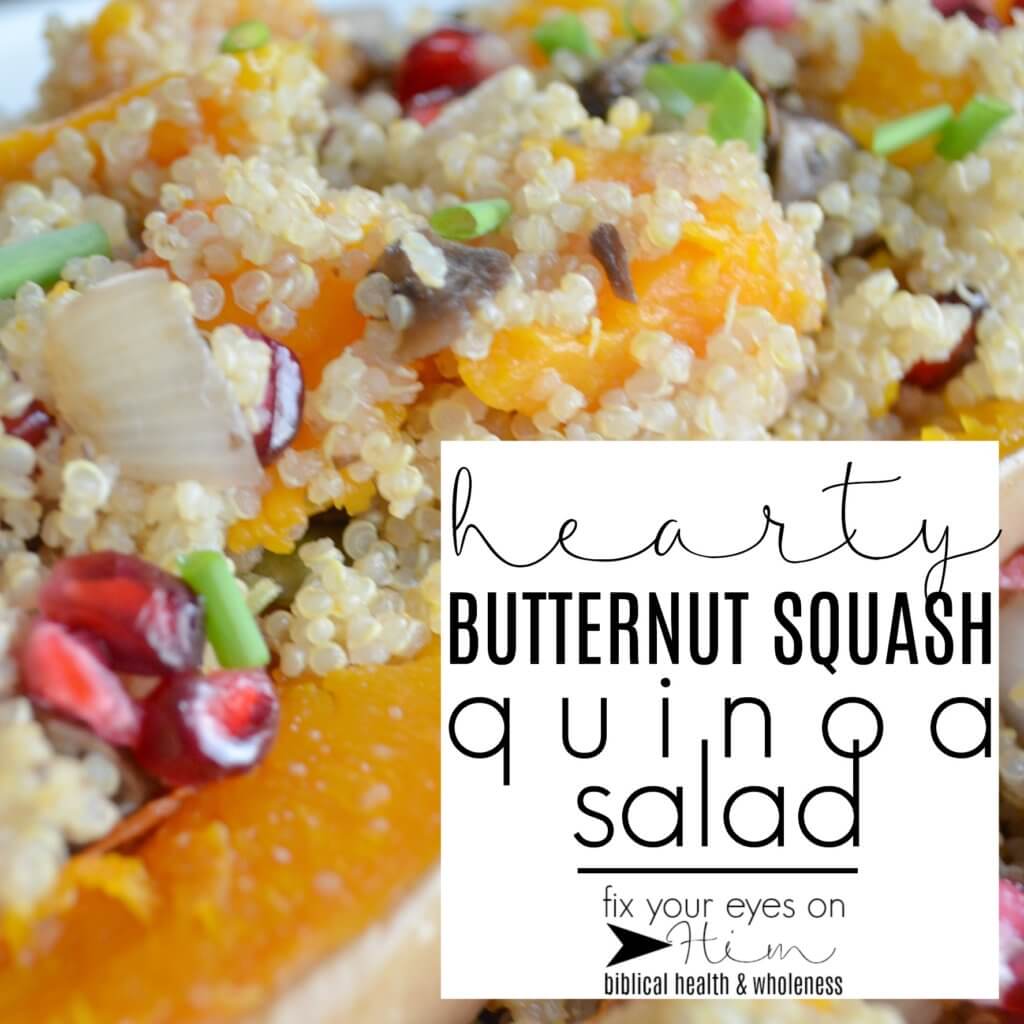 It's that time of year when we're changing over from the decor of one season to the next, and for our family, that means it's time to eat all of the pumpkins and squash that we had around the house gracing mantles, countertops, and bookshelves.
So after Thanksgiving, I had the children gather up all of the goods and bring them to the kitchen… where they sat for almost a week.
See, we used to eat these colorful gems by the basket-full each fall season when the children were younger. We'd cook up a ton and puree it for baby food and as they got older we'd just roast them as side dishes. But then we moved to the deep south for several years where it was quite literally too stinkin' H O T to put much of anything in the oven. If my Christmas Eve church attire was a sleeveless dress and sandals, then I'm sure you can see why we just weren't so eager to be turning the oven on much. Not to mention that pumpkins and other winter squash just don't grow down there, so we didn't have the abundance that we once had in our own garden up north.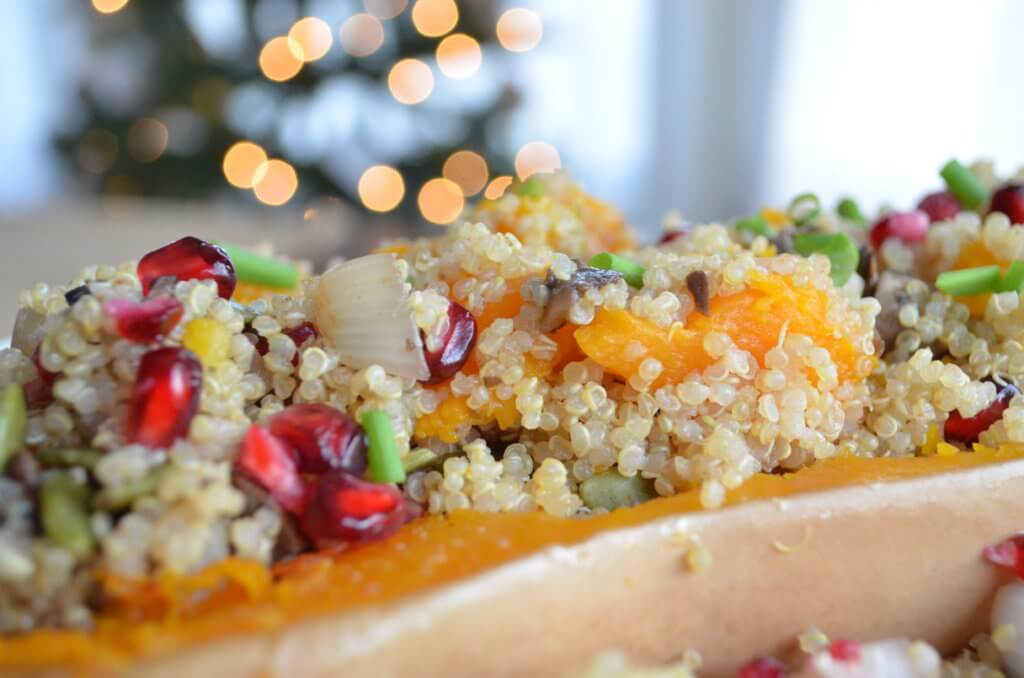 But now we're back and we've got a kitchen full of these nutrient-dense goodies and I couldn't think of one thing to do with them. There they were just sitting there staring at me. Laughing at me. Mocking me.
. .
.
As good as it is, I couldn't "just" roast them. I had to do something fun with them! Hubby suggested pumpkin soup, but I reminded him that I promised y'all I was done pumpkin-pushing (for this year, at least!). So I honed in on the butternut squash. I wanted to make something hearty but not heavy, so I went to the pantry and just started pulling things out.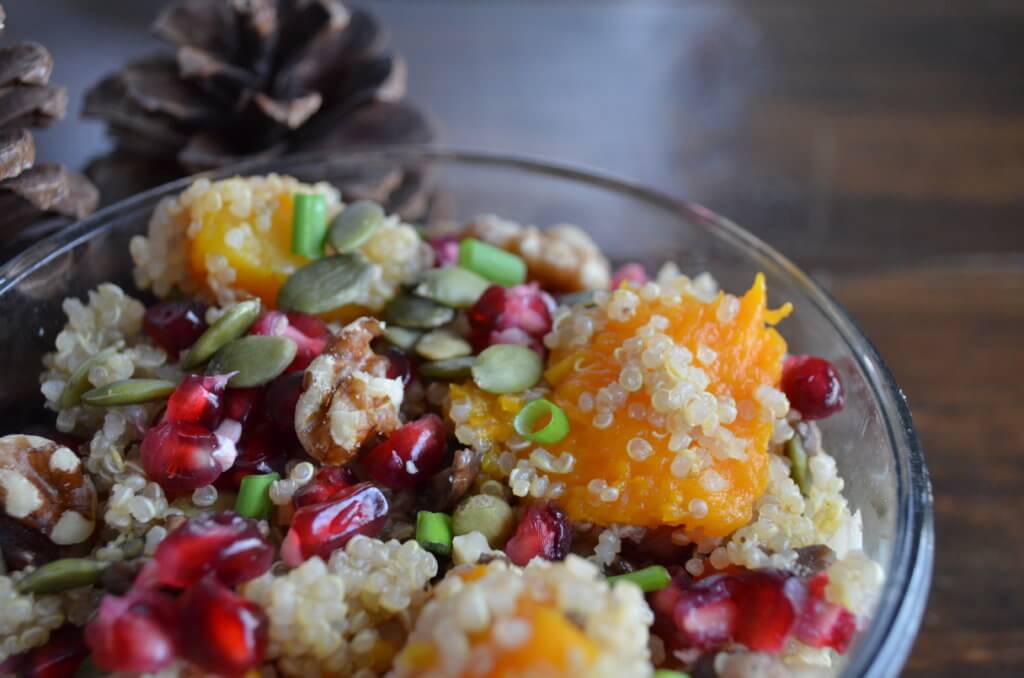 Quinoa, yes. Onions, nuts, seeds, yes.
To the fridge, I went next. Pomegranate, mushrooms, yes. We were finally getting somewhere!
What we ended up with was just as pretty as it was delicious and satisfying! I hope you try it and love it too! It's got all the flavors of the season, has a heartiness that lacks heaviness, and it appealed to all ages in my family. I'm confident you'll add this to your own meal plan!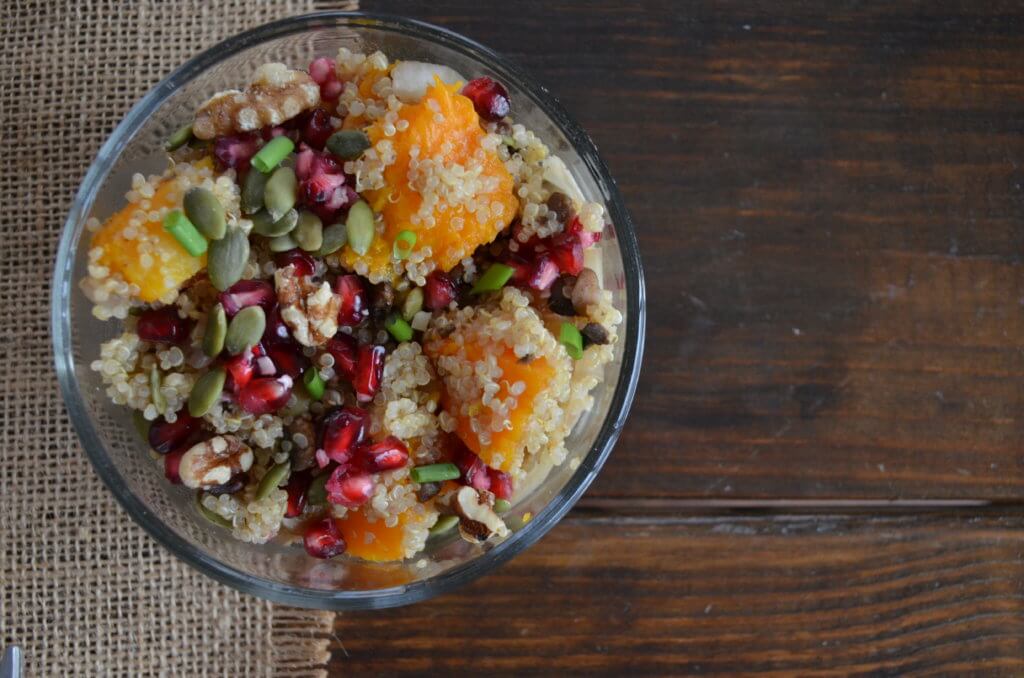 Check it out!
hearty butternut squash quinoa salad
Enjoy the flavors of the season in this hearty warm butternut squash quinoa salad
Author:
fixyoureyesonhim.com
Ingredients
½ butternut squash (you may cook a whole one, but you'll only need half for this recipe)
1½ c quinoa, cooked as directed in 3 c water
1 pomegranate
1 white onion, chopped
2 handfuls whole button mushrooms, washed and chopped
½ c shelled pumpkin seeds (+ more to top)
½ c walnuts (+more to top)
2 T maple syrup
1 t rosemary
½ t sage
salt and pepper to taste
green onion to top
Instructions
At 375 degrees, cook the squash, face down, for 40-45 minutes or until the thickest part is tender.
While squash is cooking, get your quinoa cooked as directed on package.
Sautee onions with mushrooms until tender.
Slice the pomegranate in half and place both halves in a large bowl filled with water. Use a spoon to scrape out the contents of the fruit into the water and use your hands to remove the pith out of the bowl. Drain.
When squash is done, slice inch-sized cubes or use a melon baller to cut small pieces and put into the cooked quinoa.
Add the remaining ingredients and toss.
Top with more seeds and green onion as desired.
>>> Spread the love and save this image to Pinterest? <<<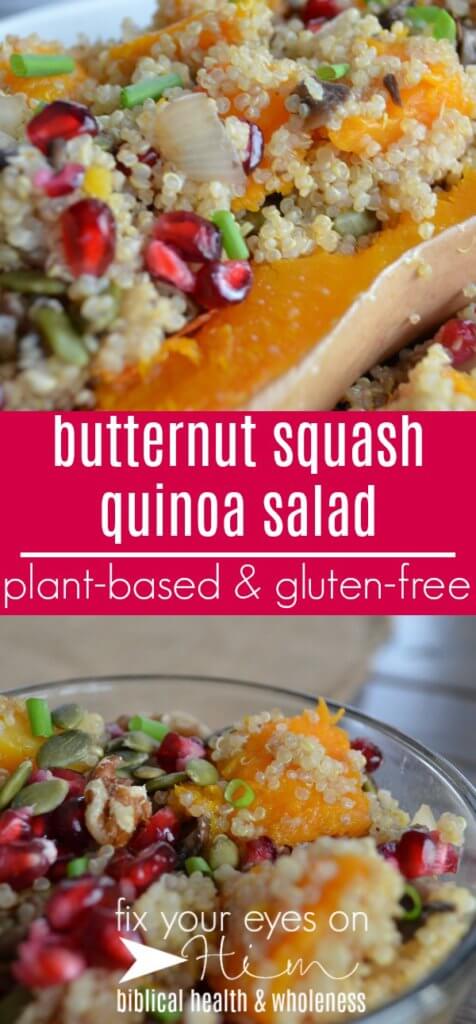 .
.