{This post may contain affiliate links for products. This means if you click on a link and make a purchase, we will be compensated. Specifically, Fix Your Eyes On Him LLC is a participant in the Amazon Services LLC Associates Program, an affiliate advertising program designed to provide a means for sites to earn advertising fees by advertising and linking to amazon.com. This helps keep this blog operational and we only ever promote products we use or would use. You can find all of our disclosures and policies, including our full disclosure of material connection, statement of faith, copyright policy, privacy policy {including our use of cookies on this site}, terms of use, and health disclaimer {we are NOT medical doctors and are not offering medical advice!} HERE. Thank you!}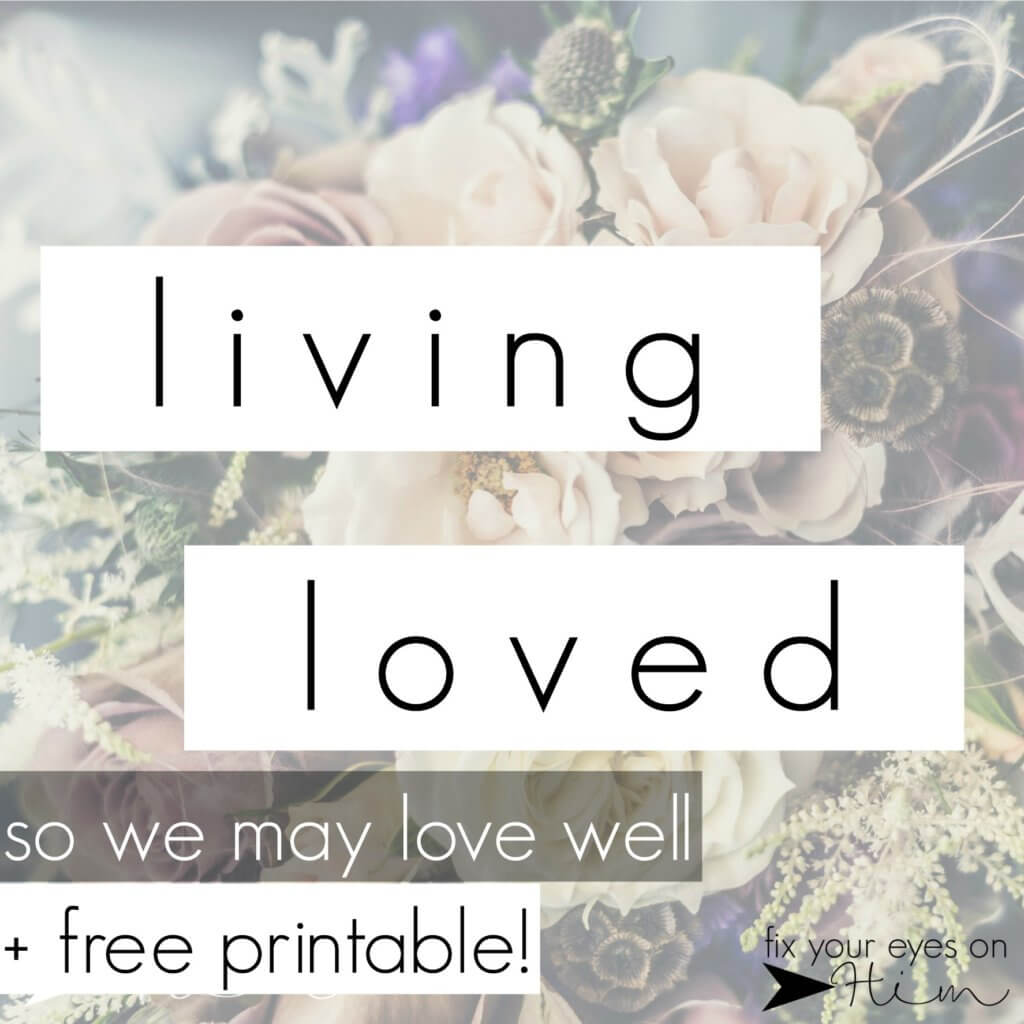 This past year, God has been working on my heart big time in regards to what it means to love.
Perhaps the biggest lesson He's shown me is that in order to love, you have to first accept His love. It is quite simply impossible to love others well and from a pure place if we are not living loved.
What do I mean by living loved? Well, it's getting ourselves to a point where we are accepting God's love for you, believing you are loved, and truly living life from a place where your cup is full of His great love for you.
This can be easier said than done for many of us.
Perhaps you didn't grow up in the most loving home. Maybe you feel you have to work hard or be perfect to earn love. All of this colors the lens through which we view how to love others. If you haven't truly received His deep love; a love that is grace-giving and undemanding, then you won't know how to give that away to others in your life. If you feel you have to earn love, then you will expect others to be perfect before your love can be given to them… and even more dangerous, you may withdraw love after you've given it if they fail to meet your expectations and standards. Look at just how often we see this in people's lives around us! It's an epidemic!
. .
.
I must confess that many years ago, I didn't know how to love well. While I thought I was living for Christ, I was not living loved. I chose to listen to the lies of the enemy more than the Lord's words about who I am. That led me to live in a way that looked more like a Pharisee demanding that everyone follow the rules rather than forgiving others' imperfections the way He had forgiven mine. At one point, I had no problem letting a new friendship fizzle on the sole basis that my friend was consistently late to everything. Instead of loving her, I expected perfection. And when she failed to meet my standards, it was over. All because I had not fully embraced the Lord's love for me. I thought I had to work for it and so surely others in my life had to work to earn mine as well. So wrong.
1 John 4:7-8 ESV says, "Beloved, let us love one another, for love is from God, and whoever loves has been born of God and knows God. Anyone who does not love does not know God, because God is love."
What might happen if we, as Christ-followers, really learned how to accept the Father's love for us? A love that does not wait for our perfection. A love that meets us right where we are in life and then spurs us on to become more like Him. More compassionate, more gracious, more honest, more loving.
When we understand grace as a part of His love as well as our own individual need for it, we will more freely give it as well. Our love will come from a place without expectation.
Just like the love of the Father for you.
Take some time this week to ask yourself and your Father in heaven if you are truly living loved. Examine your actions and attitudes toward others and see if they are truly coming from a place of love. Then spend some time in the Word to read just exactly how much you truly are loved.
THIS may help.
Friend, you ARE loved. Believe it!

To encourage you in believing this truth, we have a free gift for you! We have a beautiful "live loved" printable available for you in our toolkit full of resources HERE. Frame it and place it somewhere you will see it daily as a reminder!
>> Spread the love and save this image to Pinterest? <<<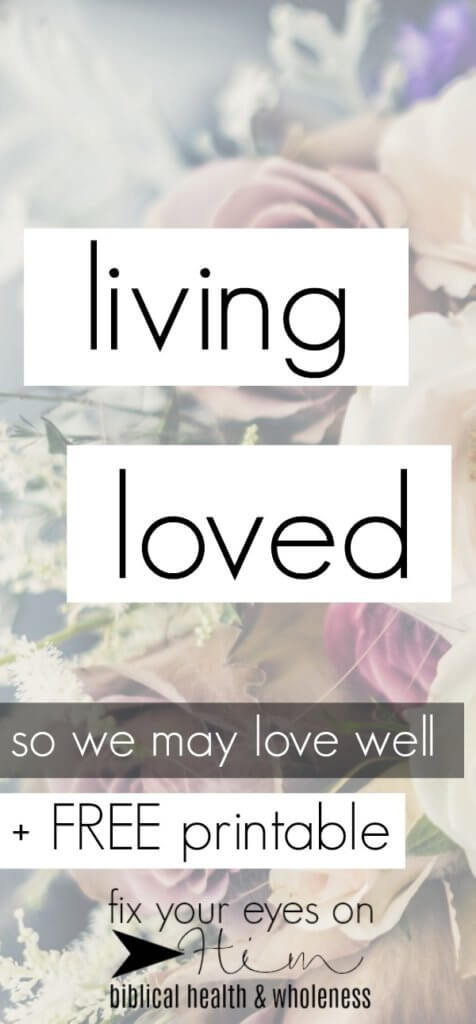 .
.