{This post may contain affiliate links for products. This means if you click on a link and make a purchase, we will be compensated. Specifically, Fix Your Eyes On Him LLC is a participant in the Amazon Services LLC Associates Program, an affiliate advertising program designed to provide a means for sites to earn advertising fees by advertising and linking to amazon.com. This helps keep this blog operational and we only ever promote products we use or would use. You can find all of our disclosures and policies, including our full disclosure of material connection, statement of faith, copyright policy, privacy policy {including our use of cookies on this site}, terms of use, and health disclaimer {we are NOT medical doctors and are not offering medical advice!} HERE. Thank you!}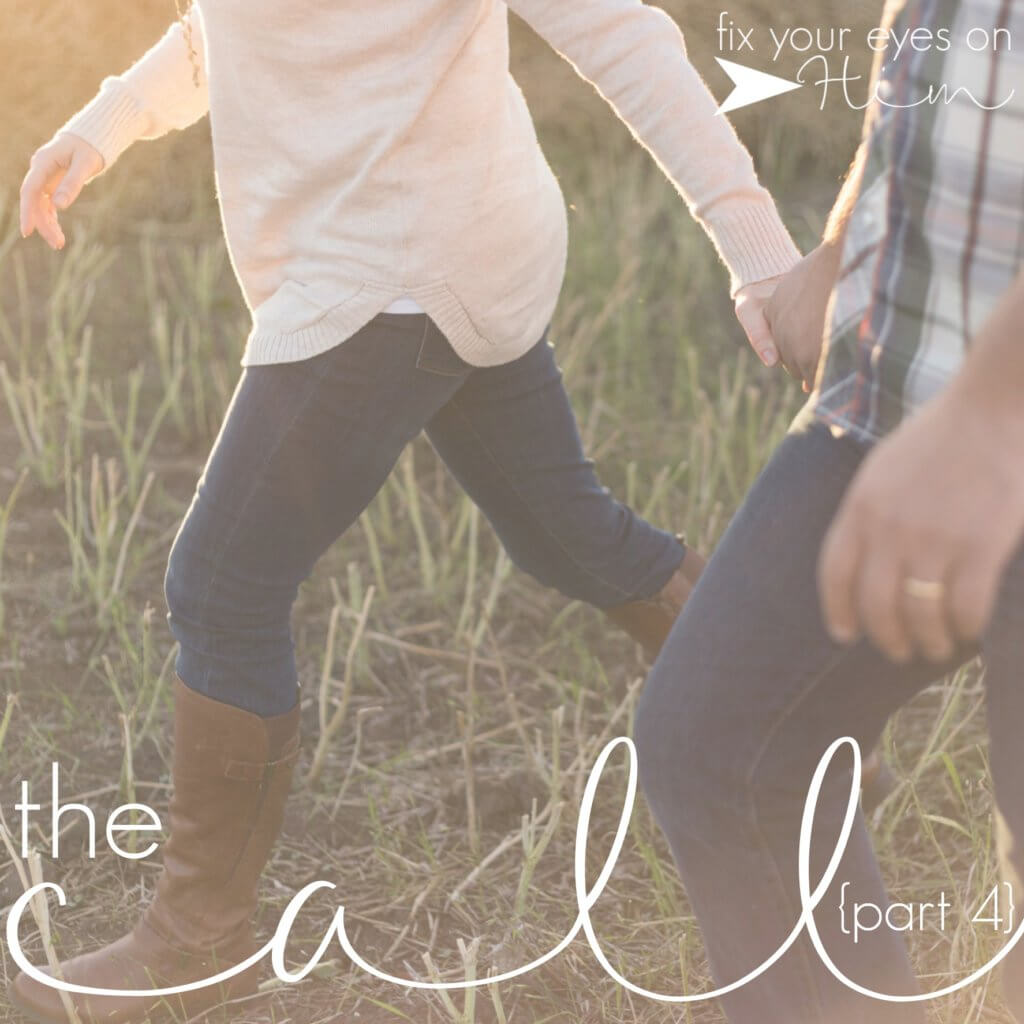 At first, I was unsure how to approach this post.
But then, I was reading a recent issue of Christian Standard and saw a section titled:
"The Riskiest Move I've Made for God | Five Christian leaders tell what God did when they took a surprising step of faith"
These 5 people each told their stories of God's callings in their lives and how He was seen in each and I thought I would model this post after that same idea.
If you don't know our full story, you can catch up HERE and read for yourselves how God has called us to take risky steps of faith many times before.
We've always been game for risky moves. We've never once put our personal preferences, desires, or needs ahead of His callings. This has meant spending almost 6 out of the past 9 years of our marriage and children's lives over 1000 miles away from "home".
And He's blessed every step of our obedience.
And once again, He's asking for another step.
.
We love our church.
Like, really truly love our church.
We have some of the hardest working staff, most Spirit-led elders, and most generous and loving people I've ever met. From the day we first came here, we've been welcomed into their lives as though we had always been a part of them.
On paper, no pastor would ever leave this church.
When we came here, our sincerest prayer was that it would be a permanent home for us. That there would be no more bouncing around for us. In case you didn't know, moving cross-country with children is NOT fun. Multiply that times 3 cross-country moves and you get 3 times as much NOT fun.
So we hoped and prayed this would be it. We even began looking for houses a couple of years ago but felt the Father tell us to wait.
Whhhhyyyyy????? We're so tired of renting. 
But we obeyed.
Quite a while later we felt God put our home state on our hearts. We don't ever put "home" or comfort or family ahead of His plans so we felt strongly that this was from Him and not our flesh.
He began showing us little glimpses of His calling… much in the same way He led us down here the first time 8 years ago. Little signs here and there. Little glimpses of something from that state immediately after prayers for direction. The little gave way to big and it's been enough to fill pages documenting His every move.
Y'all, it's been incredible.
But we still didn't know what that meant or what He was doing.
Fast forward to a couple of months ago when a random guy walks in D's office and starts talking to him about our church partnering with his ministry in Haiti. They get to talking and come to find he's from our home state. They have mutual friends. D then touched base with a mutual friend mentioned, just to see how he was doing. The friend mentioned his church was looking for a Senior Pastor and asked if he was interested.
We wrestled through this, not knowing if the timing was right, having only been here 3 years. But looking back, we know that was fear talking. Fear of man, mostly. Fear of what our church would think.
But fear is fear and it is NEVER from God.
So after much prayer, we thought there was no harm in seeing if this was something God was arranging. After talking with the elders on the phone, meeting with them and the staff in person, and much prayer on both sides, the position was unanimously offered to D and we accepted.
I'm sure some may believe we went looking and wanted to go back closer to family. Let us be clear: We do not put family ahead of His calling.
"If any man come to me, and hate not his father, and mother, and wife, and children, and brethren, and sisters, yea, and his own life also, he cannot be my disciple." Luke 14:26
. .
.
We even have some family here. But friends, it is indeed a blessing that there won't be 1000+ miles between our children and their cousins for this season in their lives. And for this, we are grateful.
 In all honesty, it would be easier for me personally to not go through another major move. It would be the "safe" choice for me at this crossroads.  But He does not call us to "safe". He calls us to step out into the unknown and follow Him where He asks us to go. And that is always a risk. Just ask Joshua… the waters didn't clear until AFTER his people put their feet into the river.
"…and as those who bore the ark came to the Jordan, and the feet of the priests who bore the ark dipped in the edge of the water (for the Jordan overflows all its banks during the whole time of harvest),  that the waters which came down from upstream stood still, and rose in a heap very far away at Adam, the city that is beside Zaretan. So the waters that went down into the Sea of the Arabah, the Salt Sea, failed, and were cut off; and the people crossed over opposite Jericho.  Then the priests who bore the ark of the covenant of the Lord stood firm on dry ground in the midst of the Jordan; and all Israel crossed over on dry ground, until all the people had crossed completely over the Jordan." Joshua 3:15-17
Sometimes you have to take a risk and step foot in the flooding river before God parts the waters.
It's about trust.
.
To our current church,
You have been so good to us. You have been a place of provision and a place of healing for us. A place of authenticity and love.
We know you know that the Church is bigger than our church and that God is simply calling us to serve in another location of the Church. In D's recent prayer time, the Father showed him this verse:
"And a vision appeared to Paul in the night. A man of Macedonia stood and pleaded with him, saying, 'Come over to Macedonia and help us.' Now after he had seen the vision, immediately we sought to go to Macedonia, concluding that the Lord had called us to preach the gospel to them." Acts 16:9-10
Such a good reminder that we are to go where called without question.
"Behold, to obey is better than sacrifice…" 1 Samuel 15:22
We also know you know that YOU are the Church. Not D, not any leader, but YOU. Leaders may come and go, but you are the Church. And you have been, are, and will continue to do amazing things for this city as well as His Kingdom.
You will always hold a special place in our hearts and I will think of you often as Paul wrote to Philemon:
"I thank my God, making mention of you always in my prayers, hearing of your love and faith which you have toward the Lord Jesus and toward all the saints, that the sharing of your faith may become effective by the acknowledgment of every good thing which is in you in Christ Jesus. For we have great joy and consolation in your love, because the hearts of the saints have been refreshed by you, brother." Philemon 1:4-7
.
I recently read an amazing book that was written in 1875. In The Christian's Secret of a Happy Life, Hannah Whitall Smith tells of 4 ways in which God reveals His will to us, "…through the Scriptures, through providential circumstances, through the convictions of our own higher judgement, and through the inward impressions of the Holy Spirit on our minds."
She goes on to say, "If there is a contradiction in the voices, the speakers cannot be the same. Therefore my rule for distinguishing the voice of God would be to bring it to the test of this harmony."
Friends, we feel the Lord has been very clear with us in all of these areas. It aligns with His Word, He has opened doors with ease, He has put the conviction within us, and has led all of it by His Spirit.
He is good and we trust Him.

.
.